Message from the Editor in Chief
The Thai Journal of Urology (TJU) was born on May 1, 1976, and over the last 45 years has faced many challenges in its determination to mature into a useful, professional resource. The first Editor in Chief was Prof. Phaitun Gojaseni who ably managed the journal for 12 years before publication lapsed in 1989-1991. The TJU recommenced circulation in 1992 following the sterling efforts of Prof. Wachira Kochakarn the new Editor in Chief, who was succeeded by another four Editors in Chief. The focus has been to enhance the channels for accessing information in the journal via various standard search engine tools such as Google Scholar and Thai Journals Online (ThaiJO). The Journal was promoted to the first group in the Thai Citation Index (TCI)?s database on October 12, 2017.
To date, the TJU has recruited the Editorial Committee from every training urological institute in Thailand. We have been working together for 3 years to improve the quality of the journal. Developments include adaptation of the TJU into an English journal and the formulation of new guidance instructions for authors. Following these advances, in 2018, the TJU was accepted into the ASEAN Citation Index (ACI) database. The next goal was inclusion in the PubMed and Scopus databases. To achieve that, we invited many experts from abroad to contribute to the journal as international and English language editors. The updating of the publication demanded a new title and Insight Urology (ISU) was born. We have carefully selected articles for publication in this first issue of the ISU, our aspirations being that the journal will increase in recognition and receive manuscript submissions from across the world, improving the sharing of professional urological practices.
The Editorial Committees of ISU would like to express our heartfelt thanks to Assoc. Prof. Monthira Tanthanuch for her 7-years hard work as the Editor in Chief of TJU and her gracious acceptance of the post of Honorary Editor in Chief of ISU. We would like to thank the Former Editors in Chief, Managing Editor, Editorial Board, International Editors, Advisory Board, and Editorial Office Staff for their dedicated support so far. We also wish to express our appreciation to all the authors and members of the TUA for submission of manuscripts and detailed reviews. Together we will be a solid power behind ISU to continue its growth into a high-quality international peer review journal.
No reserve, No retreat, No regret.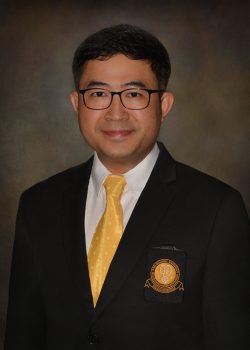 Assoc. Prof. Phitsanu Mahawong, M.D.
Editor in Chief of Insight Urology